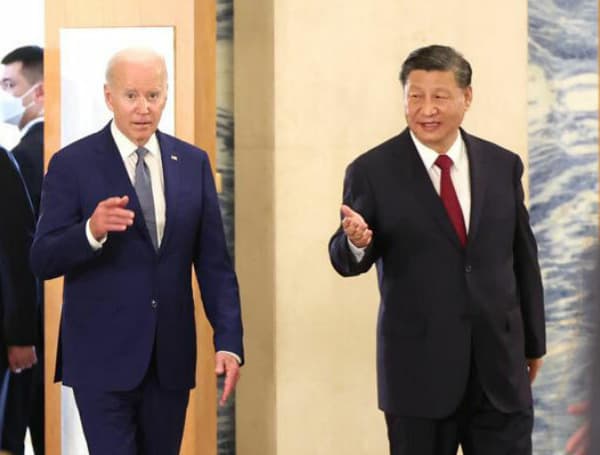 Sen. Rick Scott is leading a bipartisan effort to block President Joe Biden from selling any more of America's oil reserves to communist China.
On Friday, the Florida Republican, joined by Sens. Ted Cruz, R-Texas, and Joe Manchin, D-W. Va. introduced their bill to prohibit the sale of American crude oil from the nation's Strategic Petroleum Reserve to any company under the control of the Chinese Communist Party.
The measure also flatly prohibits the export of any crude oil from the SPR to China.
As The Free Press has reported, China was one of the key beneficiaries last year when Biden conducted a fire sale of America's emergency oil reserves.
In the news: China Condemns US Balloon Shoot Down, Saying They Reserve "Further Necessary Reaction"
He auctioned off nearly 200 million barrels, depleting the 50-year-old stockpile to its lowest level in 40 years. His sale was so egregious that even some Democratic lawmakers filed measures to stop it. Republican Rep. Marjorie Taylor Greene filed impeachment articles against Biden for the shipments he sold to China.
In a press release Friday, Sen. Scott said, "In only two years as president, Joe Biden has managed to cozy up to Communist China AND wage a war on American energy."
"Families are facing historically high prices when it comes to gas and groceries and it is forcing them to make tough choices. The LAST THING Joe Biden should be doing with America's strategic petroleum reserve is giving it away to our adversaries. We must focus on unleashing American energy for America—NOT Communist China."
Scott made that statement as Biden seemed unable or unwilling to do anything about a Chinese spy balloon floating lazily over America's heartland.
In the news: Trump's Former Top Diplomat Said Balloon Episode Shows China Is Eager To Challenge Biden
In his prepared comment, Democratic Sen. Manchin said, "The Strategic Petroleum Reserve is a vital piece of our nation's infrastructure that bolsters our energy and national security. While the reserve has been a policy Band-Aid for rising gas prices and the global unrest caused by Russia's invasion of Ukraine, the reserve is, above-all, meant to help the United States and our allies through difficult times, not to help China power its economy."
"This bill would ensure that we are not risking our energy security by selling our petroleum reserves to China, and the bipartisan support this legislation has received shows just how important it is for America to be energy secure and independent."
In addition to Scott, Cruz and Manchin, the bill is supported by Republican Sens. John Boozman of Arkansas, Jerry Moran of Kansas, Cindy Hyde-Smith of Mississippi, Mike Braun of Indiana, Joni Ernst of Iowa), John Hoeven of North Dakota, John Cornyn of Texas, Tom Cotton of Arkansas, Dan Sullivan of Alaska, Mike Lee of Utah, and Roger Marshall of Kansas.
On the other side of the aisle, the measure is backed by Democratic Sens. Maggie Hassan of New Hampshire and Michael Bennet of Colorado, as well as independent Sens. Angus King of Maine and Kyrsten Sinema of Arizona, both of whom caucus with the Democrats. Scott's office noted that the House recently passed similar legislation by a 331-97, with 113 Democrats joining GOP lawmakers.
Android Users, Click Here To Download The Free Press App And Never Miss A Story. Follow Us On Facebook Here Or Twitter Here. Signup for our free newsletter by clicking here.
Login To Facebook From Your Browser To Leave A Comment