August 28, 2020
By: Martin Fennelly
TAMPA, Fla.- The Rays and Baltimore Orioles were supposed to play baseball Thursday night at Tropicana Field. They didn't. The Lightning and Bruins are supposed to play Game 4 of their playoff series tonight. They won't.
And I couldn't be prouder.
Once upon a time, a pandemic brought sports to its knees. But now sports has stood on its own, in the face, right in the face, in fact, of another plague that has gripped this country for far longer, the scourge of racial tension and inequality.
As usual, the NBA got it rolling, bursting its Orlando bubble, led by the Milwaukee Bucks, in reaction to the shooting of Anthony Blake in Wisconsin. They refused to play. Players forced the postponement of their playoff games.
The NBA agreed. Soon WNBA players were locking arms and standing down in protest. It spread to baseball, and soccer, and finally hockey. Though the Bucs practiced, if there was an NFL season going on, it would grind to a halt, college football too.
What we are looking at is the single greatest act in the history of American sports activism, and sports are better for it. We are all better for it.
These are peaceful protests, which is all most of us ever ask of protest. No one wants some of the violence that has gripped places like Ferguson, Mo., and Minneapolis, Minn., and now Kenosha, where two people were shot and killed Wednesday night – allegedly by a young white man with a long gun. And on it goes.
I don't know when or how it will end. But I do know that sports has found its place and its place is a peaceful protest, and it feels right. Exactly what should be happening is happening. This is not militancy. It is not political correctness. It's just plain correctness, and it's about damn time.
I knew this was the right thing to do when, among other things, skinny President Trump son-in-law Jared Kushner took time from his crowded life of rank and privilege to chide NBA players for being "lucky enough" to be able to take time off from their jobs to protest. Others openly wondered what difference it would make.
What do you say to that, really? What difference did Dr. King make with his peaceful protest? That we have to carry on his work is the sad thing. What difference did Gandhi make? What difference did Christ our savior make?
The fight for peace and love does not need balled fists. The longing for peace and love is the best inside of all of us. No, we don't need agitators, outside or inside. We need reflection. We need to pause. That is what the games have done. I'm so proud.
Our games will be back. They returned once before. We will be back up to our eyeballs with the Lightning chase for the Stanley Cup, and the Rays pursuit of their first world championship. And Tom Brady and the Bucs will eventually take the field. It's going to be great. It's going to bring us together. That is what sports is all about.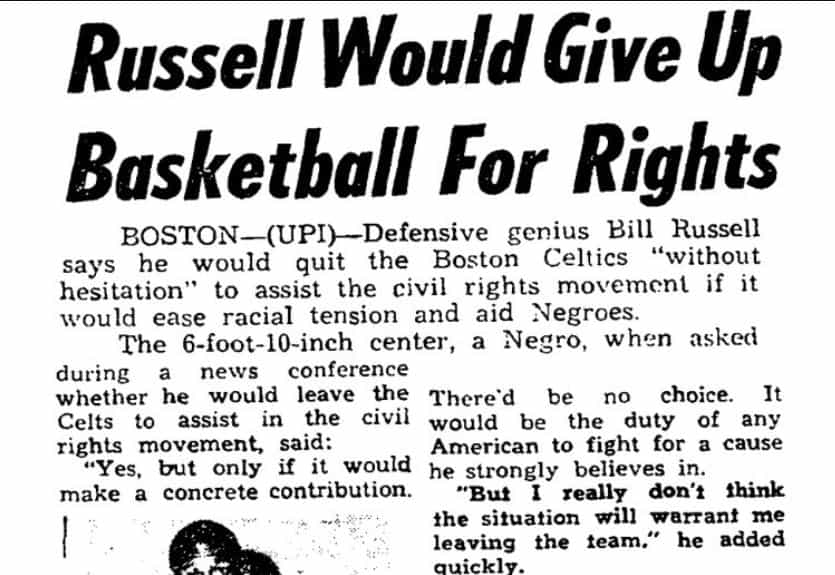 It's just that there are more to games than just games. We found that out this week as if we needed to be reminded as if to be reminded. Sports have always been filled with statements. Jesse Owens at the 1936 Berlin Olympics. Muhammad Ali in the name of protesting the violence in a distant war. Tommie Smith and John Carlos' Black Power salute at the 1968 Mexico City Olympics. But there has never been anything like this in sports history. NBA great Bill Russell threatened to give up professional basketball in the name of ending racial injustice. And he meant it.
And we're better for it. Maybe we will learn from these protests. Pause and reflection might just do that. It's not the March on Washington. But it will do. What makes America great is we always strive to be greater, clumsily at times, violently too often, but we find our way.
Consider this a nudge from sports, one we've never seen, one I hope we never need to see again. Mark it down in the scorebook as an assist. It brought us together.
Publishers Note: While The Free Press will always be free for our readers, and ad-supported, we are asking our loyal readers to consider a monthly donation of $3 to maintain our local journalism and help us grow, as we ramp up ad sales locally.
We thank you all for your consideration and for supporting local journalism.
Login To Facebook From Your Browser To Leave A Comment