August 7, 2020
By: Staff Report
TAMPA, Fla.- Antonio Ortiz, 31, from Tampa went on a wild and dangerous shooting spree on Thursday, July 30th, injuring an officer during the shooting.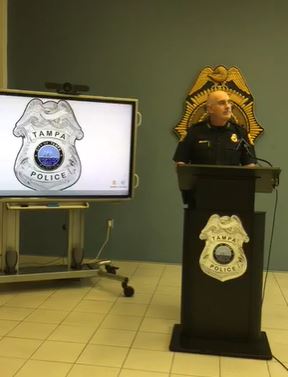 On Thursday, Chief Brian Dugan, held a press conference to give an update on the officer and the bravery of the Tampa Officers invloved.
"The officer was cut with glass when the windshield in the back window shattered. I spoke with the officer at Tampa General Hospital shortly after and he explained to me he could actually hear the bullets whizzing past his head as he ducked for cover during this time," said Chief Dugan
"When our officer encountered Ortiz at 43rd and Hillsborough, that's when policeman pulled behind him on 43rd Street . When Ortiz noticed him, he pulled his car off to the side of the road stepped out with two guns and opened fire on the police officer. After he shot at our officer he fled to a nearby apartment building where his quickly taken into custody."
Chief Dugan shared this video below, showing on officer bleeding from his left arm and running back into the line of fire.
Chief Dugan said, "He's bleeding at his left arm and what happens, he pats him down to see if at any further injuries and then he tells them let's get back into fight bro, let's go and that's where our cops do."
"The suspect was a dangerous person running rampant around our city and county threatening to shoot and kill anyone in this path our officers risked their lives to get them off the streets and protect our community."
"In the midst of a mental health crisis and gun violence are the two biggest threats that I see facing our country and facing our community right now when you couple mental health issues and gun violence, it's a deadly mixture," said Chief Dugan.
The Chief thanked the assistance of Sheriff Chronister and the men and women of the Hillsborough County Sheriff's Office.
Login To Facebook From Your Browser To Leave A Comment