The mammoth media company Gannett is reviewing an editorial cartoon by an artist at one of its Florida newspapers after its depiction of Gov. Ron DeSantis' spokeswoman created a conservative backlash on social media on Wednesday.
Fox News reported late Wednesday that the rendering of Christina Pushaw by Andy Marlette of the Pensacola News-Journal was under the microscope for violating corporate policies regarding sexism.
As The Free Press reported earlier Wednesday, Marlette tweeted his caricature of Pushaw as the ugly, if not repellant, "Florida COVID Cover-up Girl," disgracing the front of a glossy fashion magazine.
The cartoon boasts headlines accusing Pushaw of "Using Twitter to Take a Taxpayer $$$ Funded Paycheck," while another adds, "3 Cosmetic Enhancements to Conceal Inner Ugliness."
An unidentified Gannett spokesperson told Fox News, "Editorial cartoons are intended to spark debate and discussion about public figures and matters via pointed, satirical commentary."
"We take seriously our policy not to publish material that is sexist, racist, or discriminatory and we constantly evaluate our editing process to ensure our standards are met. This cartoon has not published in any of our newspapers or on our websites and is being reviewed."
Marlette tweeted the toon to his more than 14,000 followers on Twitter Wednesday morning.
It's unclear what may come of Gannett's probe.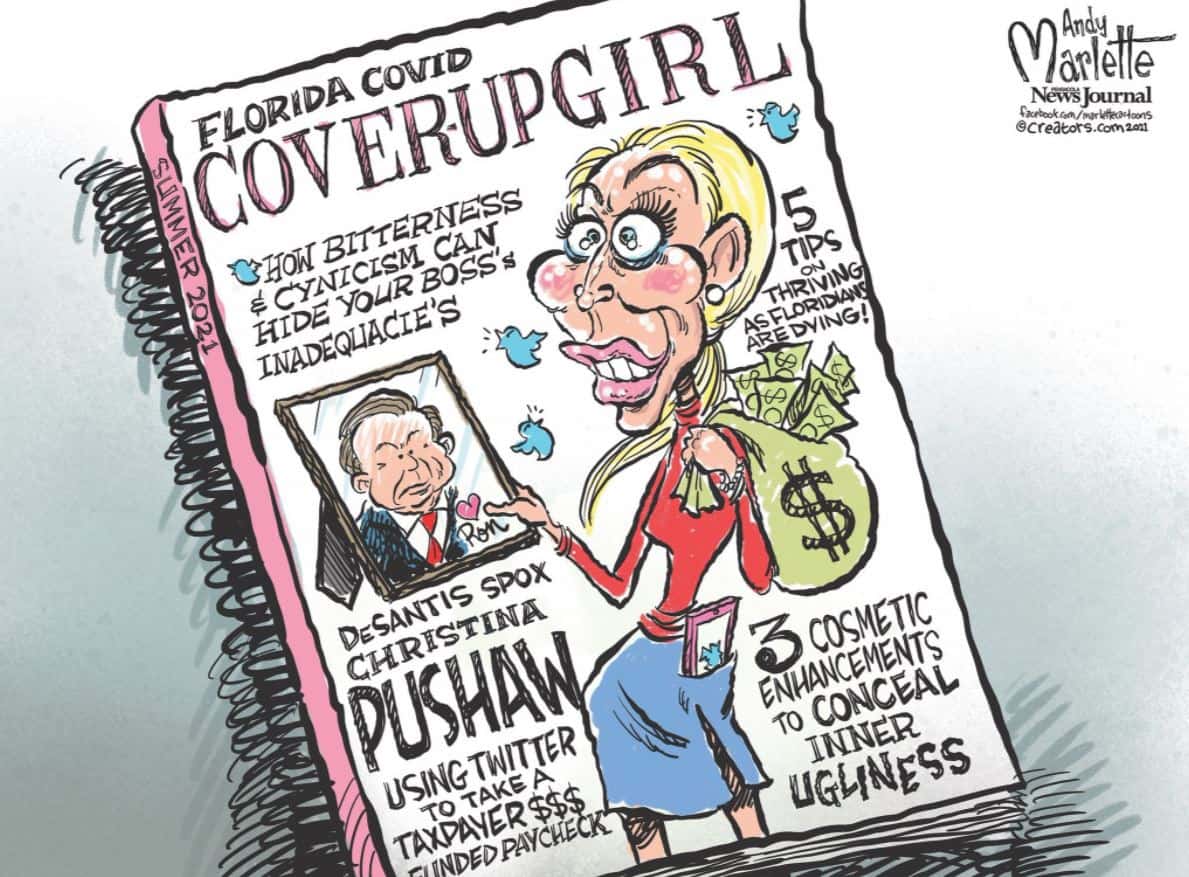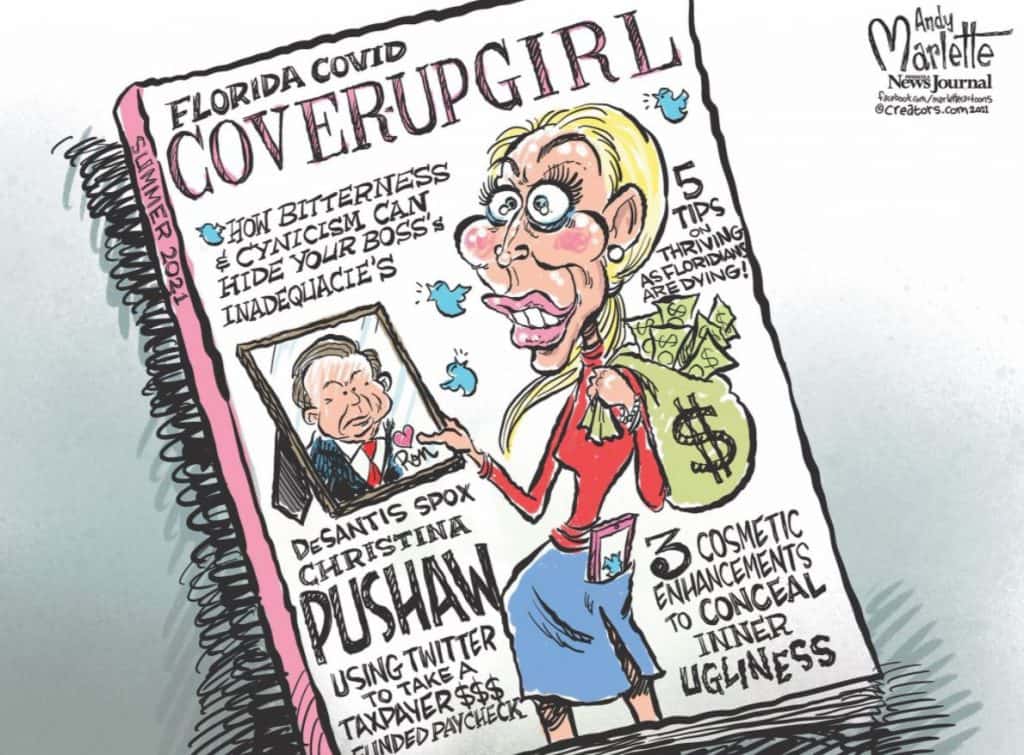 While conservatives, especially women, took Marlette and his corporate bosses to task for sexism, some defended the cartoon as legitimate political satire.
Yet that was not Gannett's attitude earlier this year, when it canceled artist Bruce Tinsley and his conservative "Mallard Fillmore" cartoon for allegedly offensive material.
In March Tinsley, who launched the right-wing cartoon in 1994, told The Washington Times that King Features, the firm that syndicated his work, informed him that Gannett's corporate leaders were outraged by two Mallard Fillmore strips ridiculing President Joe Biden's stance on transgender women in women's sports.
"It was a big shock," Tinsley told the Times. "From what I'm hearing, it was unprecedented. My syndicate had never seen anything like it."
Tinsley added that local editors had suspended or even dropped his comic before. But never had a whole company.
In one cartoon, Biden was depicted as saying, "For too long, segregation sullied women's sports … They were restricted to women! Thank goodness those dark days are over."
In the second cartoon, which appeared the next day, the president said, "I hear what you, the American people, want me to do … kill fossil-fuel jobs … devalue Americans' labor … and help more transgender athletes beat the *@!# out of biological females."
Tinsley told the Times, "I've thought a million times, 'This is it, I don't even know if I'm going to turn this in.' But of all the cartoons — it vaguely centers on Biden's doing that as his first executive order. There certainly was nothing derogatory about transgender people. It was just about what I see as a really unfair environment in sports."
Gannett took a different view.
A day after the initial story of Tinsley's cancellation, Amalie Nash, senior vice president of local news for Gannett, told the Times the decision was based on a review of Mallard Fillmore in totality.
"We made a decision last month to discontinue the Mallard Fillmore comic strip in our newspapers because a review of the recent work showed it did not meet our standards," Nash said.
"It is inaccurate to say it was based on any anti-Biden comics — we value and publish work that showcases perspectives across the political spectrum." she said.
Tinsley didn't buy it.
He told the Times that both his editor and the president of King Features "explicitly" mentioned those specific comics as the reason for the cancellations.
"They further said that Gannett's objection was not to the cartoons' being 'anti-Biden,' but that they thought they were insensitive to transgender athletes who compete against biologically female ones," he added.
The public should soon know whether Gannett's corporate leadership thinks sexism against actual biological women, and Christina Pushaw specifically, also does not "meet" its standards.
Android Users, Click Here To Download The Free Press App And Never Miss A Story. It's Free And Coming To Apple Users Soon!
Support journalism by clicking here to our GoFundMe or sign up for our free newsletter by clicking here
Login To Facebook From Your Browser To Leave A Comment