August 4, 2020
By: Rick Wilks
ORLANDO, Fla.- Big Brother 22 will have it's 2-hour premiere Wednesday, August 5 at 9/8c on CBS. This year will be a special All-Star edition with returning house guests from prior seasons. I recently had the opportunity to do a Q&A interview with one of Big Brothers' most popular players ever, Dick "Evel Dick" Donato.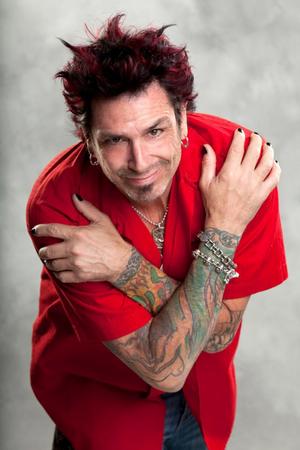 Evel Dick was the winner of Big Brother 8. That same season his daughter, Daniele, finished runner-up. Both are experienced at the game and have played more than once. Dick is the Villain everyone loves and Daniele is often called the most beautiful player ever. Dick also appeared briefly on BB13. He is a "say it like it is" type person and very personable and even has his own show "Dick at Nite".
TFP: Evel Dick when you appeared on BB8, did you ever imagine that to this day you would have such a huge fan base?
I went on Big Brother to have some fun & try to win some money. I honestly didn't really think about "fans" at all.
It's a different world now, where people go on the show just to try and have fans, to become an "influencer". With people today, their entire self worth is wrapped up in strangers following them online or giving them "likes" it's actually comical if you think about it.
So to answer the question, no, not in a million years did I think I would have this crazy, loyal following of people 13 years later.
TFP: You were such a stand out player and fan favorite on the show you won a Golden Realitini, what was that experience all about?
The Fox Reality Awards show was a complete shit show and for once it wasn't my fault…
I got to present an award with Bridget Marquardt from Girls Next Door, love her. Meet a ton of reality people, some I was excited to meet, some were as douchey as you'd think.
I had already won for "Best Villain" & the last award of the night was Reality Star of the year. Johnny Fairplay of Survivor was presenting, when Danny Bonaduce gets on stage and ends up throwing Fairplay over his head & breaks all his front teeth out when he hit the stage face first. (The video is on YouTube)
After 5-10 min of nobody knowing what the hell was going on, Alexis Arquette jumps on stage, reads the teleprompter & gives me the award, lol shit show. Alexis was super nice and we were friends after that until she died.
TFP: Is it true that you were Keith Richards stand-in for the Pirates of the Caribbean movie?
I was Keith Richard's double in Pirates III. Was one of the coolest things I've done. Got to hang out & become friends with both Keith & Johnny Depp. Matter of fact I am still in touch with Lee Arenburg who played Pintel in the movie, we met on set.. we just got drunk together on Zoom a couple months ago, great guy.
But who else do you know that can say that they got high with Keith Richard's & Johnny Depp on the Disney lot, on the set of Pirates of The Caribbean 😂
TFP: There is another popular player, the Evil Doctor, Will Kirby, he too was the villain everyone was cheering for to win. Will won his season too. What do you think would happen if he had been on your season?
I love Will Kirby on the show. Who knows what would have happened had we played together, depends on the other cast of characters in the house.
It was a bit of a drag being on the season after the first All Star season. I would have loved to play against some of the best.
People ask me all the time if I had stayed in BB13, if I would have won. That's an impossible question to answer. There are so many things that have to fall right. Win the comps when you have to. Be able to manipulate the right people at the right time, making the right moves at the right time… And there's a lot of luck too.
All I know for a fact is that it would have been a very different season, had I stayed.
TFP: What's an interesting thing that happens on the set that you can share, something the fans wouldn't get to see or know about?
I got a behind the scenes tour after my season, during BB9. It was pretty cool. They give you all-black stuff to put over your clothes, just black lights to let you see behind the 2-way mirrors. It's really odd being a foot away from someone & them having no idea you are staring straight at them.
TFP: The Rumors have been flying around for weeks about who the house guests are going to be this year. Many have been following social media and seeing who is and isn't visible on it right now being that house guests will have to quarantine before entering the house. New this season, house guests will not be known until the live show Wednesday. Daniele, your daughter has been talked about heavily as being one of those entering the house. If she is in fact chosen, what some strategy that you would recommend for her?
Rumors about my daughter being on this season have been swirling around for about a month. Daniele is a bad ass. She takes no shit from anyone and will go after the biggest threats in the house, regardless of who they are, she never is intimidated.
Daniele is very intelligent & very strategic, the flaw in her game is the social aspect of it. When you are manipulating someone, it's always best to make them see what you want them to do is a very big benefit to their game, not yours. You have to make it seem like what you are saying is the best thing for your alliance with them or that the person you want out is actually coming for them, so doing this helps them more than you. That's a big part of where her game is lacking. She's more "My way or the highway" and that doesn't go over well a lot of the time.
But she's older now, she was 20 on BB8, she'll be 34 this month, she's a different person & hopefully she's learned from her past 2 seasons.
So my advice would be to pay attention to that part of her game the most.
So even though we don't talk, BB fans know our relationship is complicated, I love her dearly and wish her good luck winning. She can do it IF she works very hard on her social game.
We will see a good, if not even split of Old School Houseguests to New School HG's this season, so it should be fun to see some old faces again on the show.
TFP: Our readers would like to know what have you been up to recently, anything exciting?
My life now is pretty much like every other sane person where the coronavirus is running wild, staying home a lot & wearing a mask when out.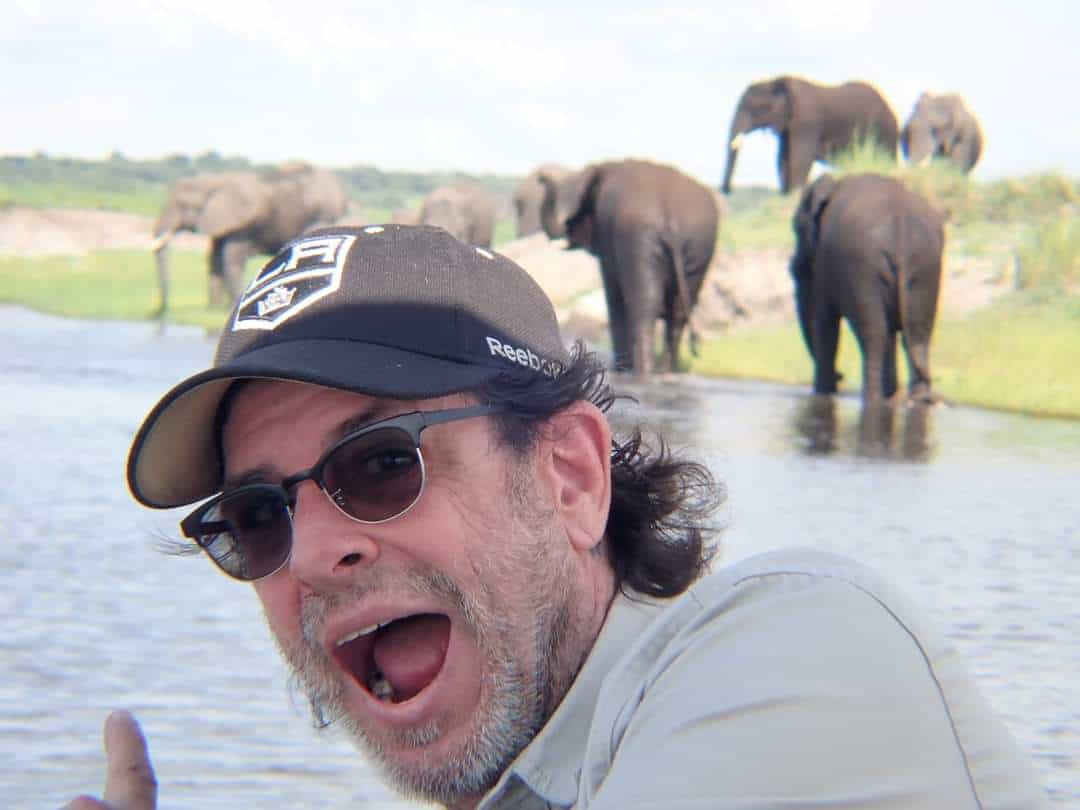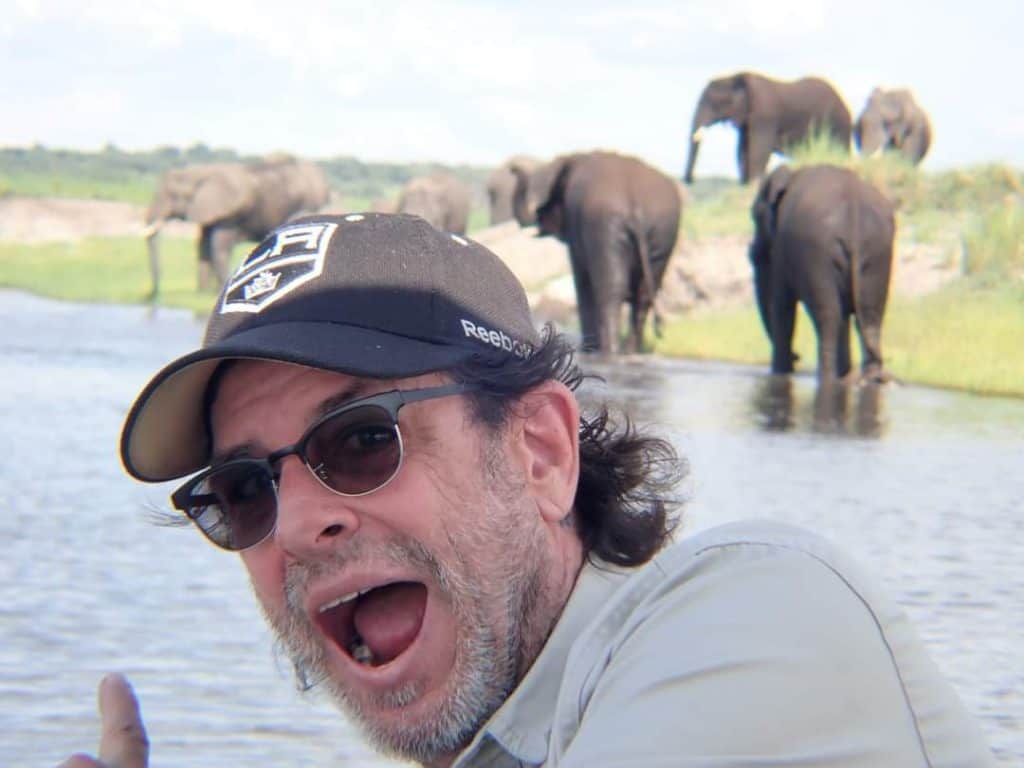 But my life has always been a bit different.
Last year I went to Africa for a few weeks, 3 countries, guided safaris, self driving safaris, boat safaris, cage diving with sharks, Victoria Falls… Was a pretty amazing trip.
2 days after returning I was alerted by Ancestry.com that I had a sibling match (I never knew my bio dad) and through the one, I found a total of 8 siblings, lots of nieces & nephews and other new family.
Life is always interesting in my world, lol.
TFP: You have been involved with the Big Brother world ever since your first season and you even have your own show "Dick at Nite" for the last several years. Survivor is also a show your include with your recaps. Tell us a bit more about Dick at Nite and how it evolved, who do you talk to and where do fans go to view it?
I started doing Big Brother recaps right after BB8. I did them for CBS, Superpass & Fox Reality Network. I started doing them on my own about 10 years ago.
I do 3 shows a week, one after every CBS episode with 6 past HG's as regulars, 2 per night.
Wed Keith & Porsche from BB13
Thurs Rockstar BB20 & Parker BB9
Sun Peter from BB Canada1 & my trusty sidekick Cat, who is a BB blogger & has been with me for years.
I also have different guests join me for every episode. So I have tons of past HG's, new and old and a lot of celebrities that are Big Brother fans as well, like Jeanie Buss owner of the LA Lakers, Matt Iseman host of America Ninja Warrior, Samm Levine from Freaks & Geeks, Soap Star & now star of Selling Sunset Chrishell Stause… It's always fun talking BB with people that enjoy the show & people enjoy watching my show, which is a more raw and no BS type of show.
Anyone interested can go to EvelDick.com to subscribe to BB22 All-Stars. We'll give honest, but fair takes on gameplay, and HG's… and yes sometimes we trash them & sometimes we praise their gameplay.
The Dick at Nite show sounds great for fellow Big Brother and reality show fans. Be sure to tune in Wednesday night to see if your favorites from the past will be entering the Big Brother House this season. Big Brother will air Wednesday, Thursday, and Sunday a 8 pm.
Publishers Note: While The Free Press will always be free for our readers, and ad-supported, we are asking our loyal readers to consider a monthly donation of $3 to maintain our local journalism and help us grow, as we ramp up ad sales locally.
You can click here to support us.Reward yourself with 5% cash back from Discover®Ad by Discover See More
We thank you all for your consideration and supporting local journalism.
Login To Facebook From Your Browser To Leave A Comment