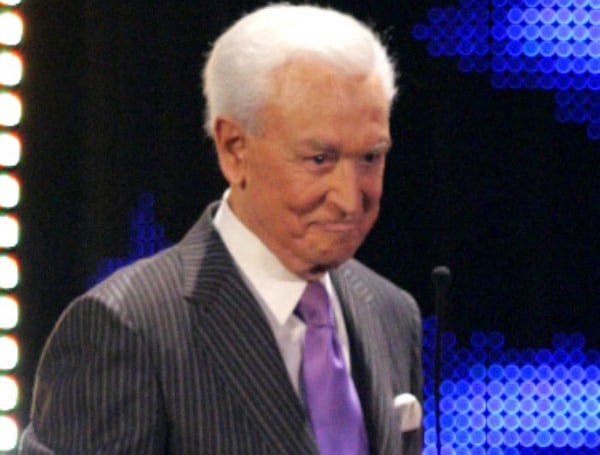 Bob Barker, a household name for a half-century as host of "The Price Is Right," has died at his home in Los Angeles. Barker was 99.
Barker, a longtime animal rights activist, died Saturday morning, according to publicist Roger Neal.
"I am so proud of the trailblazing work Barker and I did together to expose the cruelty to animals in the entertainment industry and including working to improve the plight of abused and exploited animals in the United States and internationally," said Nancy Burnet, his longtime friend and caretaker, in a statement.
Bob Barker is best known for hosting the long-running game show "The Price Is Right," which he hosted from 1972 to 2007. The show involves contestants guessing the prices of various products to win prizes. Barker's charismatic and affable hosting style contributed significantly to the show's popularity and success.
In the news: Florida Gov. DeSantis Issues State Of Emergency For 33 Counties Ahead Of Storm, Invest 93L
Barker was born on December 12, 1923, in Darrington, Washington. Before his hosting career, he worked in radio and as a television host on various other shows. However, it was his role as the host of "The Price Is Right" that made him an iconic figure in the television industry.
Beyond his hosting duties, Bob Barker was known for his advocacy for animal rights and animal welfare. He often signed off the show with a reminder to viewers to spay and neuter their pets, raising awareness about the importance of controlling the pet population to prevent animal suffering. He also funded various animal-related initiatives and organizations.
In 2007, Barker retired from hosting "The Price Is Right," and Drew Carey took over as the new host. Barker's contributions to the show and his dedication to animal welfare have left a lasting impact on both the television world and society at large.
Android Users, Click To Download The Free Press App And Never Miss A Story. Follow Us On Facebook and Twitter. Signup for our free newsletter.
We can't do this without your help; visit our GiveSendGo page and donate any dollar amount; every penny helps
Login To Facebook To Comment