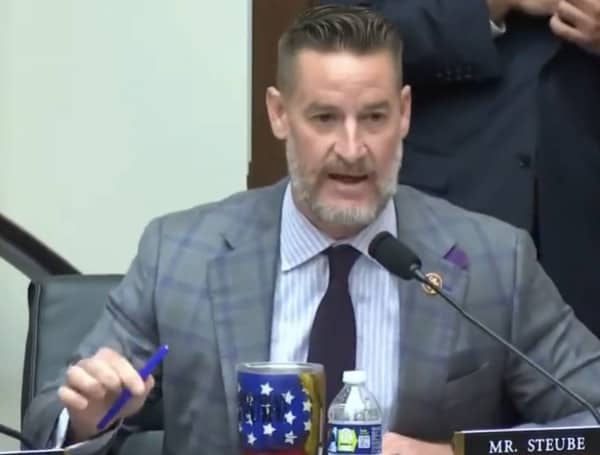 Another court battle over the definition of marriage may be on the horizon once President Joe Biden signs the Respect for Marriage Act.
And that would be just fine with U.S. Rep. Greg Steube.
On Sunday, the Sarasota Republican encouraged Florida Attorney General Ashley Moody to consider a lawsuit to stop implementation of the measure that mandated the federal government recognize same-sex marriages, which passed a final vote in the House on Friday and awaits Biden's endorsement.
In an email to constituents, Steube noted that he had voted against the Respect for Marriage Act "because it directly violates God's law and the 10th Amendment."
The 10th Amendment states that any powers not expressly delegated to the federal government by the Constitution belong to the states, unless the Constitution restricts such powers to them.
"The State of Florida's constitution defines marriage between a man and a woman," Steube continued. He added that he was "hopeful" that Moody "will file suit after it becomes law."
The bill's purpose and language both create a tension that will likely have to be resolved in court — possibly the U.S. Supreme Court.
Proponents of the bill note that it reinforces public sentiment that broadly supports gay marriage. The bill's main provision is that, as NPR reported on Friday, "it forces states without marriage equality laws to recognize LGBTQ+ marriages from other states," and that it "declares all legal marriages in the United States must be recognized, even across state lines."
Yet while proponents claim a majority of Americans back same-sex marriages, at least 31 states, including Florida, possess state constitutions that still define marriage as between and man and a woman. That list includes left-wing states like California, Oregon, Hawaii, and Wisconsin. 
In the news: Restaurant That Prides Itself On "Inclusive Environment" Boots Out Conservative Group
In that NPR report, National LGBTQ Task Force Policy Director Liz Seaton confidently argued that these states will not enforce those laws after the Respect for Marriage Act.
"The vast majority of people in this country support marriage equality," she said. "Because there's old laws on the books doesn't mean that the state necessarily has to do anything with them."
At the same time, however, supporters of the bill also have noted that under the proposed law, states are not required to legalize same-sex marriage, nor are they prohibited from acting to ban or restrict same-sex marriage the Supreme Court decision Obergefell v. Hodges, which authorized gay marriages, was ruled unconstitutional.
The reason the bill did not go as far as its supporters wanted is that marriage is a state issue.
As the left-wing website Slate pointed out, "Time and again, the [Supreme C]ourt has ruled that the federal government cannot 'commandeer' states to enforce federal laws or pass specific statutes. If Congress compelled states to license same-sex marriages, the judiciary would invalidate the law as a violation of this anti-commandeering doctrine.
On the one hand, it's difficult to believe that proponents of same-sex marriage will be satisfied with the outcome. It is likely only a matter of time before they demand states comply, and seek to sue them into submission.
While the Respect for Marriage Act says churches, mosques, synagogues and other houses of worship don't have to recognize or perform gay marriages if that violates their beliefs, many conservatives argue that the same does not apply under the bill for people of faith in the private sector.
That, too, could force a court case, as red states seek to protect their rights to recognize marriage as they see fit, and protect a large number of constituents who object to same-sex nuptials.    
Visit Tampafp.com for Politics, Sports, and National Headlines, or signup for our free newsletter by clicking here.
Android Users, Click Here To Download The Free Press App And Never Miss A Story. Follow Us On Facebook Here Or Twitter Here.
Login To Facebook From Your Browser To Leave A Comment