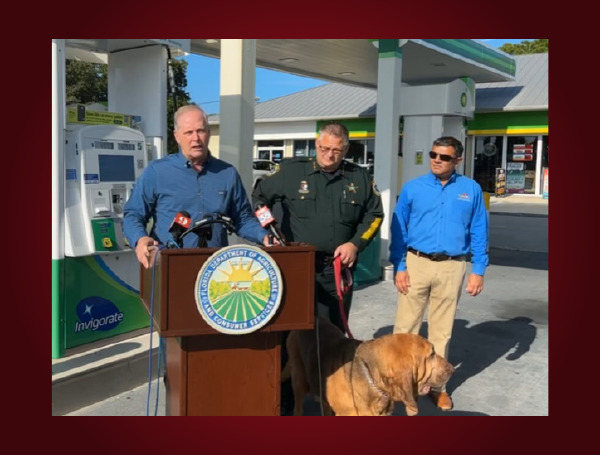 Florida Commissioner of Agriculture Wilton Simpson and Brevard Sheriff Wayne Ivey held a press conference Friday in Titusville, Florida, to stress the importance of parents' and caregivers' role in preventing vehicular heatstroke fatalities.
Florida currently leads the nation in child vehicular heatstroke fatalities.
To further drive home the critical message of never leaving children or pets inside a hot vehicle, Commissioner Simpson announced that every fuel pump across the state will be outfitted with a new inspection sticker featuring the safety messaging.
In the news: Florida Death Row Inmate Executed 35 Years After He Raped, Brutally Murdered Woman
"With daily routines changing for children heading back to school coupled with the still very present summer heat, it is imperative for parents and caregivers to be vigilant to protect their precious cargo," said Commissioner Wilton Simpson. "Our FDACS inspectors work hard each day to ensure that fuel pumps are working safely and properly for consumers across our state, which is visibly present every time you visit a gas pump and see the 'Inspected and Approved for Accuracy' sticker. I am proud to add this important safety message to the nearly 75,000 fuel inspection stickers across Florida to protect the vulnerable."
"I want to thank Commissioner Simpson for championing this great idea. If you show me a problem in society, I'll show you where education and awareness are part of the solution," said Brevard County Sheriff Wayne Ivey. "This is an education and awareness campaign sponsored by the Commissioner of Agriculture to remind parents and pet owners to not leave their children or pets in a hot car. Don't leave them unattended – in a split second something could go wrong."
Vehicular Heatstroke Prevention:
Never leave children, vulnerable adults, or pets unattended in a vehicle – even for a short period of time.
If you see a child, vulnerable adult, or pet locked in a hot car, take immediate action by calling 911.
Always check the back seat before leaving and locking your vehicle.
Florida law, section 768.139, Florida Statutes, provides for the rescue of a vulnerable person or domestic animal from a motor vehicle. These good Samaritans may have immunity for damage to the motor vehicle if:

The vehicle is locked and there is no other reasonable way the person or animal to get out.
Has reasonable belief based upon the circumstances that entry is necessary because the person or animal is in imminent danger.
Notifies law enforcement or calls 911 prior to or immediately after entering the vehicle.
Uses no more force than is necessary.
Remains with the person or animal until law enforcement or other first responder arrives.
In the news: Pinellas County Inmate In ICU After Attempting To Hang Himself With A Bed Sheet
FDACS regularly conducts inspections of petroleum distribution systems and analyzes samples of petroleum products to ensure that Florida consumers are getting the amount they pay for and the quality they expect.
Gasoline, alternative fuels (E85, biodiesel, ethanol, etc.), kerosene, diesel, fuel oil, antifreeze products, and brake fluid products are routinely tested and must meet strict standards.
FDACS inspects retail gas stations across Florida, ensuring that fuel dispensers are working safely and properly. We investigate fraud to protect consumers.
FDACS also conducts annual Meter Mechanic Clinics across the state. Clinic attendance is mandatory for all technicians who repair or install petroleum fuel measuring devices, as part of the registration process.
To help combat rampant retail fuel theft across Florida, Commissioner Simpson also worked with the Florida Legislature this year to create criminal penalties for the possession, installation, use, or aiding in the use of contaminant devices–such as fuel dispenser pulsars– which are inserted into retail fuel dispensers to impede standard functionality.
In addition, Florida law was changed to create criminal penalties for possessing or using an auxiliary fuel tank to commit retail fuel theft. These new changes went into effect on July 1, 2023.
Android Users, Click To Download The Free Press App And Never Miss A Story. Follow Us On Facebook and Twitter. Signup for our free newsletter.
We can't do this without your help; visit our GiveSendGo page and donate any dollar amount; every penny helps
Login To Facebook To Comment