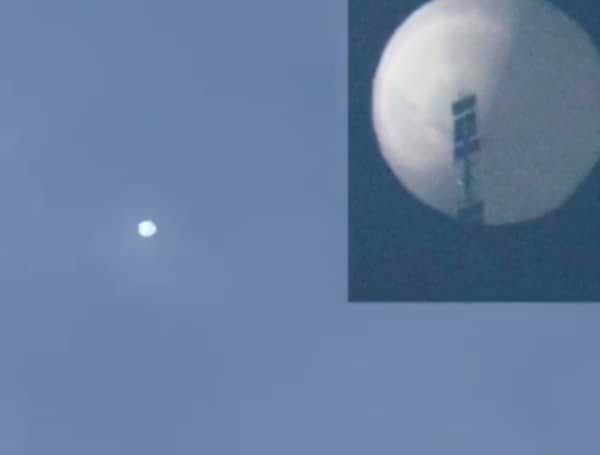 The People's Republic of China (PRC) claimed that multiple U.S. "high-altitude balloons" violated China's airspace in the last year, but the US disputes those claims.
While demanding that the U.S. should "change its ways," Chinese foreign minister, Wang Wenbin, claimed that U.S. "high-altitude balloons" have trespassed into China's airspace more than ten times since January 2022, yet declined to provide additional details during a press conference in Beijing on Monday, according to the report.
China's allegation comes a little over a week after the U.S. Air Force shot down a Chinese spy balloon off the coast of South Carolina on Feb. 4, which had floated over the continental U.S. in the preceding days.
Related: Pentagon On 'Heightened Alert' As 3rd UFO Shot Down Near Michigan, NORAD Commander Says
"Any claim that the U.S. government operates surveillance balloons over the PRC is false," Adrienne Watson, National Security Council spokesperson, tweeted Monday.
"It is China that has a high-altitude surveillance balloon program for intelligence collection, that it has used to violate the sovereignty of the U.S. and over 40 countries across five continents," she continued.
In addition to the suspected Chinese spy balloon, the U.S. military has since downed three unidentified aircraft flying over North America including a "high-altitude airborne object" on Feb. 10 discovered off Alaska's north coast, a "cylindrical" aircraft over Canada on Feb. 11 and an "octagonal" object flying over Lake Huron on Feb. 12.
"It's unlikely that the most recent three unidentified objects belong to China as they flew at much lower altitudes compared to the Chinese high-altitude balloon," Lu Xiang, a research fellow at the Chinese Academy of Social Sciences (CASS), told Chinese state-run media outlet Global Times on Monday.
In the news: VIDEO: General Declines To Rule Out Aliens After US Military Shoots Down 3 UFOs
"Judging from the altitude, they are completely different types of objects," Lu said.
Yet, CASS is controlled by the State Council of the Chinese Communist Party, according to Chinese government records, and "many" CASS personnel allegedly covertly work for Chinese intelligence agencies, such as the Ministry of State Security, Alex Joske, former Chinese intelligence analyst at the Australian Strategic Policy Institute, wrote in "Spies and Lies."
Android Users, Click Here To Download The Free Press App And Never Miss A Story. Follow Us On Facebook Here Or Twitter Here. Signup for our free newsletter by clicking here.
Login To Facebook From Your Browser To Leave A Comment